About the art in the Narthex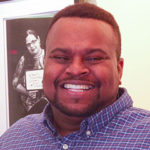 Anthony Modesto Milian
Opening on 29 Sept. Info here
A New York City transplant living in South Carolina, Anthony is obsessed with the human experience and storytelling; he first got his introduction to artistic storytelling by creating the street photography blog "Faces of the Upstate" and garnering over 7,000 followers.
After the untimely passing of his brother, Anthony now focuses on telling his own story as a person of color of with Latino ancestry. Anthony is an inaugural fellow at the Greenville Center for Creative arts, has served on the creative team of TedX Greenville, and completed "Seeing through photographs" an artistic program sponsored by P.S. 1 MoMa.
Artist's Statement I have been compelled to work on a community project, one that incorporates everyday people along with a socially conscience issues and imagery that has been making headlines in the news, is thought provoking, and will start dialogue within our state. Part of what I wanted to work on also is something that moves a narrative or a theme forward in a way that is educational, concise, and inclusive of more than one specific demographic.
After racking my brain for months on end I came up with. "If Black Lives Matter we should…" A project that digs further into the narrative of the slogan "Black Lives Matter," which is a grassroots activist movement founded after the death of Trayvon Martin and the subsequent acquittal of George Zimmerman. The movement gained momentum after the death of Eric Garner and Michael Brown. Participants that took part in this project were asked to finish one simple sentence "If black lives matter we should…" The overall objective of this project is to create dialogue about issues concerning race, police brutality, and systematic injustices while supplementing demonstration with constructive action.
---
Steve Chapp organizes art to be displayed on the Narthex walls.