About the art in the Narthex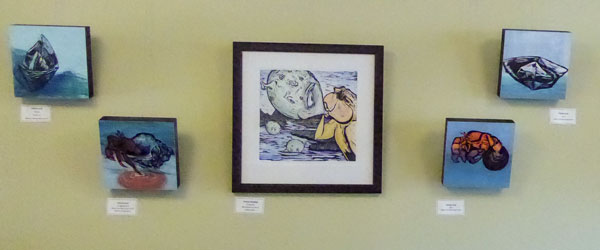 Our artists for the months of May & June are Vivian Morris & Freda Sue.
Vivian Morris is from Greenville and a recent visual arts graduate from Bob Jones University.  Vivian's artwork awakens the child in each of us by transferring her drawings into prints utilizing the traditional methods of woodblock printing and watercolor. She has always been fascinated with stories and especially the illustrations that accompany them. This shows through in her illustrations of fantastic characters each with its traits and personalities.
Freda Sue is a native of Taiwan and a US citizen. She teaches visual arts at USC Up State and works in her studio in Greenville.
My work is a series of reflections on human relationship and its environmental impact through time and space. Inspired from the ancient Chinese culture, such as artifacts or literature, I am interested in refreshing the form from the past and giving new conceptual and visual content through personal experiences. Woodcut is the primary technique in my works.
In my current series "Finding the Way Home", I choose a couple of universal symbols such as rocks, origami paper boats and hermit crabs, reconstructing these objects and placed them into different environments.
Both women are printmakers and share a studio space in downtown Greenville where they operate a print studio.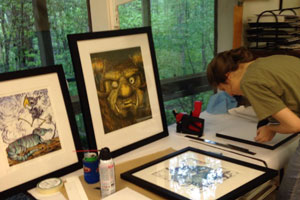 ---
Steve Chapp organizes art to be displayed on the Narthex walls.