About the art in the Narthex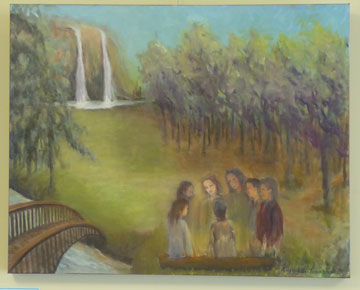 The Fellowship has been chosen as the venue for the regional conference of the IASD (International Association for the Study of Dreams) on April 28 and 29. As part of that conference we are hosting an art exhibit that highlights art that directly and suggestively relates to dreams.
The exhibit includes 24 works from 14 artists.
Two of the artists are members of GUUF, Sarah Lyons and Steven Chapp. The Regional Southern Dreaming Exhibit will run from March through April 2017.
The Fellowship thanks Steven Chapp, Sarah Lyons, John West and Jean Wilder for assisting with the coordination of the exhibit.

---
Steve Chapp organizes art to be displayed on the Narthex walls.