About the art in the Narthex
PATRICIA KILBURG's work is on display for the months of May & June.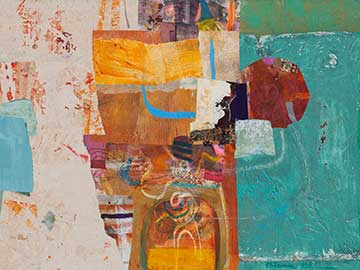 Here is a definition of encaustic painting: "Encaustic painting, also known as hot wax painting, involves using heated beeswax to which colored pigments are added. The liquid or paste is then applied to a surface—usually prepared wood, though canvas and other materials are often used."
A recurring theme in my work is the ambiguity of time and space.

 

By suggesting an imaginary universe of macro and micro forms, I seek to suggest eternity, mortality, and the fragility of existence.

 

I combine simple shapes with complex texture to create "secret places" for the eye to go and the imagination to be triggered.

 

Often organic-like forms are combined with geometric shapes.

 

There is an emphasis on color and luminosity to portray the brilliance of nature in various forms.
PATRICIA KILBURG. www.patriciakilburg.com.
(864) 630-1652. patkilburg@gmail.com
---
Steve Chapp organizes art to be displayed on the Narthex walls.