About the art in the Narthex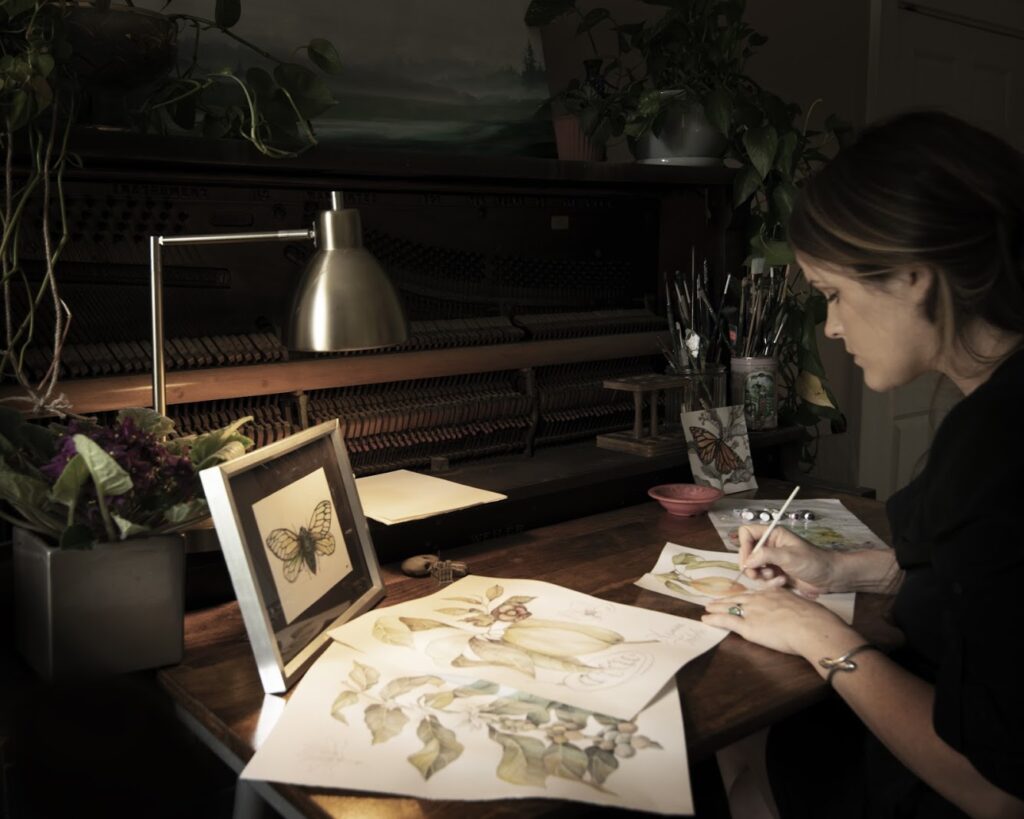 Artist Statement – Sarah Lyons
I believe art is a powerful voice, that visual metaphors and symbols communicate meaning and can incite change. I am moved by art that demands participation—that is, art that seeks to pull its audience into the ideas and elements of the art itself while simultaneously pushing the viewer into creating a better story for themselves and the world in which they live. I want my art to have a life of its own, for my creativity to be a catalyst within others. My goal is to explore profound questions and ideas, to be present in and filled by this amazing earth, to live fully within my environment as a mother, lover and artist, and to respond to this mind-blowing miracle of life by creating art that speaks.
My current work draws from themes within my environment. The vastness of nature with her open spaces and mountains inspire my brush, while I celebrate her minute details in watercolor and charcoal dust.
Biography
Sarah has designed and illustrated for clients such as The United Nations, Clemson University, Greater Greenville and has personal work in collections across America and overseas. Her work has been featured in books such as Carolina Bride Book and other various publications as well as blogs such as Style Me Pretty and Green Wedding Shoes.
Contact
For project inquiries, questions or comments, please contact Sarah at sarah@sarahroselyons.com You can also follow her work on instagram and twitter: @sarahroselyons
ALL ARTWORK & IMAGES OF ARTWORK ARE THE SOLE PROPERTY OF SARAH ROSE LYONS & MAY NOT BE USED OR REPRODUCED IN ANY WAY FOR PROFIT WITHOUT PERMISSION
The Narthex gallery is maintained by Steven Chapp