NANTAHALA 2018 RAFTING TRIPS SUNDAY:
AUGUST 12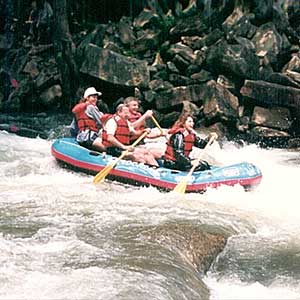 – We encourage everyone to enroll for trips by mailing (or handing) us a check made out to Brookside Campground and Rafting well before each trip. We will conduct each trip only if we have reservations and pre-payments in our hands for at least 8 paddlers no later than seven (7) days before the trip. This will help us run safe and fun trips for everyone.
This is a great outing for families and people of all ages with one caveat: you must weigh at least 60 pounds to raft on the Nantahala (hypothermia is the concern).
Here's the rafting day plan:
7:00 AM Meet at the parking lot on 291 at the foot of the Bob Jones Pedestrian Footbridge.  Sign In and Pay $* for Rafting if needed. Set Up Carpools.
7:30 AM Meet at Hardee's of Travelers Rest for Breakfast and 2nd chance for oversleepers. More Signing In and Paying and Setting Up Carpools as needed.
10:30 AM Meet at Brookside Campgrounds (map will be provided). More Signing In and Paying for Rafters.  

Hardboaters* may check in with us here

, then set up shuttle and prepare to join us at launch.  Brookside has dressing rooms, a few sundries, parking, and picnic tables. You can leave your clothes, food, and everything else you don't need on the river in your car at the campground.  Brookside people will take us and the rafts to the Nantahala launch area, and pick us up at the take-out about 8 miles and 2-1/2 hours later.  Back at the campground we'll put on our dry clothes and have a picnic before we start home.
Bring tennis shoes (or neoprene booties) and clothes you don't mind getting wet to wear on the river. We recommend you wear a swimsuit and a tee shirt and bring along some extra warmth in case you need it. The water is cold, so you may want to wear wool socks and a windbreaker. Blue jeans are not recommended. Synthetic fabrics are best. Bring a towel, plastic bag for wet clothes, sunscreen, medications you might need, snacks, and a picnic lunch.  Make sure you have dry clothes for the trip home.
We'll be back in Greenville by early evening (7:00-8:00 p.m.).
Contact Merridee Harper (padlindiva@att.net – c. 864-304-7590) or Hal Smith (shaljr@bellsouth.net – h. 864-244-9322, c. 864-982-3201) if you have any questions.
* RAFTS + EQUIPMENT: $15 per person –
OR * FUNYAKS + EQUIPMENT: Single – $27.00 – OR Double – $40.00
OR BRING YOUR OWN: FREE
Be sure to Mail your Reservations and Pre-Payment Checks made out to Brookside Campground and Rafting to Merridee Harper, 21 Ashford Avenue, Greenville, SC 29609