Wheel Session #50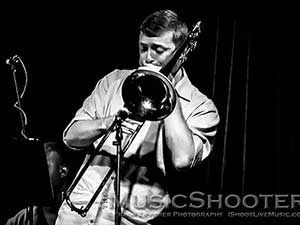 Thursday, 23 August 2018
• Wheel Session #50:  Brad Jepson Quartet featuring Steve Alford and Troy House
7:30 – 9:30 pm.  Doors open at 7:00 pm
Admission $15 (Cash only).
All attendees must sign in on a waiver.  
Attendees may BYOB (and please take your empties with you.)
Who better than Brad Jepson to headline Wheel Session #50? Brad has become a favorite of Wheel Sessions patrons because of the energy, creativity, and joy he brings to the stage. It seems he can make his trombone sing, scream, or sob, whatever the music requires. This celebration of 50 Wheel Sessions should produce a memorable evening of great jazz and good times; don't miss it! Joining Brad is a stellar lineup of musicians: Steve Alford/woodwinds, Troy House/guitar, and Kevin Korschgen/drums.
Directions & Parking:
Enter from State Park Road, continue around the building to the back. Plenty of illuminated parking at the back entrance of the GUU Fellowship. Go through the double doors, to hallway on the right to the fellowship hall.
---
Kevin Korschgen, the host of the Wheel Sessions, says:  "Our patrons and I are very happy that the Fellowship will serve as our new home. The Wheel Sessions are an underground jazz performance series originally hosted at "The Wheel" in West Greenville's Arts District. "The Wheel" was a shared arts space that we were able to convert into a comfortable and intimate concert setting. It was a magical place that people loved. It was home to our first 41 sessions and will never really be duplicated. However, I think we have created a new and different vibe at the Fellowship Hall.  It has really been the music and the people who are responsible for The Wheel Sessions' success; that has not changed!"
You can BYOB, and snacks as well!  GUUF provides glasses and ice as needed. You'll find our new home warm and inviting.
Each session features a different jazz artist, Our mission is to entertain, enrich, and enlarge the Greenville Jazz Community.
---
I'm very excited that we can bring you some amazing lineups this Fall:
Session 51. 9/13 … The Wheel All-Stars: Jepson, Wright, Garcia, Holstein, and I performing the music of the Beatles
Session 52. 9/27 … Steve Watson Trio featuring bassist Ian Bracchitta
Session 53. 10/11 … Mark Rapp Quintet, "the Columbians come to town!" guitarist Amos Hoffman will be on that one.
Session 54. 10/25 … Bill Bares Trio