2020 SUPER HERO SERVICE AUCTION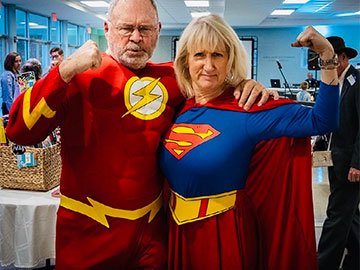 The Annual SUPER HERO SERVICE AUCTION is only DAYS away! Join us in the GUUF Fellowship Hall on  Saturday, February 22! 
PLEASE HELP the GUUF Service Auction succeed by:
DONATING YOUR ITEMS!  Go home today and find something you do not want, use or need. CLICK HERE TO DONATE and access our online donation form. We still need some great LIVE AUCTION items too, so please be generous! The DEADLINE to complete the online form is February 9, 2020!
DROP OFF your donated items in the Fellowship Hall at the following dates/times:

Sunday,  Feb 16th Before and After the service

Wednesday, Feb 19th from 4:00 pm to 6:00 pm.

Thursday, Feb 20th from 5:00 pm to 6:00 pm.

Friday, Feb 21st from 12 noon to 1:00 pm.
CLICK HERE TO SIGN UP ONLINE to purchase one or more of the fabulous SIGN-UP events and dinners. Be sure to have your credit card ready and secure your place today.
MARK YOUR CALENDAR to attend the Super Hero Service Auction Saturday February 22, 2020 starting at 6:00 pm in the Fellowship Hall.  Remember to bring a friend!

The SILENT AUCTION starts at 6:00 pm with staggered closings starting at 7:30.  All Silent Auction tables will be closed by 8:30 pm. 
The LIVE AUCTION starts at 8 pm.
CHECKOUT STARTS at 9:00 pm. Sorry, there are no exceptions to the checkout time.
BRING CASH for RAFFLE ITEMS, Thrift Shop (Audrey's Closet) purchases and for drink donations.
See you Saturday, February 22nd at the biggest party of the year!
If you are unable to use the online form to make your donations, paper donation forms will be available in the Narthex (lobby) and Fellowship Hall (look for Letitia Short, she'll be wearing her Super Hero Cape!) or call the office 864-271-4883 or send email to wandm@greenvilleuu.org or office@greenvilleuu.org.
Thank you for your continued support of the Fellowship. If you'd like more information, or wish to volunteer, please contact Letitia at wandm@greenvilleuu.org or the Fellowship office at office@greenvilleuu.org.